Linking up with Meg for a belated Mingle Monday. This is my first time linking up with her. Join the party!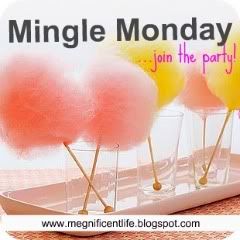 My favorite season without a doubt is summer. What is there not to love about this season? Cookouts, baseball, warm weather, tank tops, short shorts, tan skin, swimming, Summer Shandy, Fourth of July, fairs, slow-pitch softball, outdoor concerts...I could go on and on. But my very favorite part of summer is celebrating my birthday!
Hubby and I, usually on my birthday, have a competition between the two of us to see who is a better mini-golfer. We always go at least once a summer, although, I could go more often. I usually keep up with him the first 9 holes and then have a terrible hole where I get a quadruple bogey or worse and end up losing to him. The same can be said for this year. One time I'll win....you just wait!
I've been enjoying all the time I've had off this summer even though I don't actually think I've gotten much done besides take care of my newborn but nevertheless, I love summer!