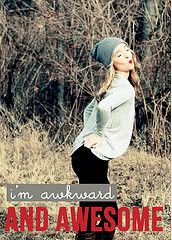 See this cool chick's blog
here
.
Awesome:
Me

My fabulous

Intyce

Cognac boots by the one and only Steve Madden. They are divine and go with everything. I'm wearing them today.

Conning the hubby (who hates shopping) into taking me shopping this weekend. Baby needs somewhere to sleep and mama needs new pants

and shoes!

Due date being July 4th! You can't plan these things people!

Nieces

Massages of any kind - back, arm, leg, face...I could go on and on.

Bare Minerals makeup.

Having the hubs look all cute (I mean sexy) in his nice, new clothes I've bought when we go out for a date night.

The beach, fruity cocktails and a setting sun.

"Finding" the flash drive with all my pictures I thought I had lost. See below.
Awkward:
Reaching the point in pregnancy where your pants no longer button and they fall half way down your booty when you get out of your car (and you're wearing a belly band). Fail.

The 15,000 feet of snow and freezing ass cold weather we've been having.

Co-workers who cry, get into arguments or talk about highly inappropriate things on their work phones. TMI.

People who talk about religion and politics on Facebook or Twitter...uncomfortable much?!

Picking my nose in public and getting caught.

Accidentally saying another word instead of the word you meant to say (really bad when you want to say organs/organisms and you really say orgasm).

Sending your flash drive to Victoria Secret along with your unwanted merchandise only to get it back with an embarrassing note saying they can't accept it for return because you didn't purchase it from them. Major fail.
Happy awkward and awesome Thursday,