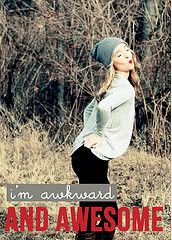 Linking up with Sydney from
The Daybook
today for another rendition of awkward and awesomeness.
Awkward:
"Having fun yet?" - who else absolutely hates it when someone asks this question (especially at work)?

Dropping off a file at someones desk and having that someones conversation with another someone go silent...guess these ears weren't meant for that convo.

How much I'm willing to talk about pregnancy here but not in real life convos.

Wanting to stab my husband's hand when he stole the bacon chunk out of my baked beans.

My hair in the a.m. when I go to bed with it wet. Lyle Lovett called and he would like his hair back.

Missing the Real Housewives of MIA premiere on Tuesday...I didn't even DVR it. This is so unlike me.

Spilling water down the front of my shirt and pants because apparently it's too hard to actually hit the mouth.
Awesome:
The hubs being super, duper excited/nervous for his interview. It's really cute actually.

The hubs asking every day if I'm excited for our baby appointment. My answer is always yes...I'm stoked to find out what's inside me! (Duh, it's a baby).

Cream cheese and ham sandwich for lunch (like pickle wraps on bread minus the pickles). I'm almost certain, I invented this.

Rocking out in my car to all the "new" songs I put my IPOD.

Finding out I actually get paid 100% for 6 weeks of my maternity leave. Yea Buddy!
Peace out,